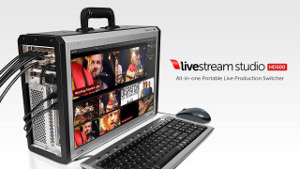 Some months after the introduction of the Broadcaster, Livestream is launching the Studio HD500, Livestream's first multi-camera switcher. The internal video production team wanted to end-up with a devices in a suitcase including a full featured production switcher.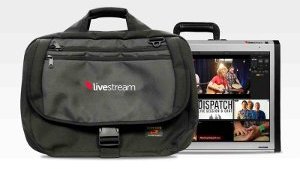 Truly portable, it fits into a case the size of a carry-on bag. (about 7Kg)
From a built-in screen to built-in Blackmagic Decklink Quad and Studio cards, you get the features you need in one powerful device.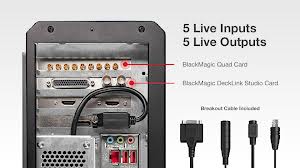 It features 5 HD/SD SDI Inputs and 5 Live Video Outputs (HD/SD SDI, HDMI, Component, S-Video, Composite). Built to television broadcast standards, Livestream Studio gives real-time multiview, cut & fade, graphics overlay, video clip playback & recording (DDR) plus a full audio mixer with cross fade support.
The device will be available mid-october in the US, and can be pre-ordered at the price of $8500.
Further information on the Livestream pages.
Live streaming is part of AdHoc Computing's solutions including the "Mobile Streaming Rack", providing hardware redundancy for assured availability.