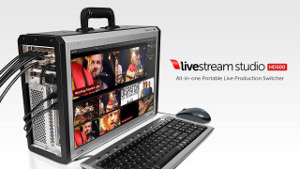 Some months after the introduction of the Broadcaster, Livestream is launching the Studio HD500, Livestream's first multi-camera switcher. The internal video production team wanted to end-up with a devices in a suitcase including a full featured production switcher.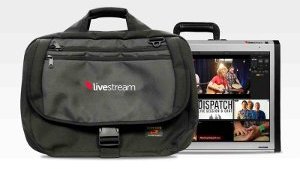 Truly portable, it fits into a case the size of a carry-on bag. (about 7Kg)
From a built-in screen to built-in Blackmagic Decklink Quad and Studio cards, you get the features you need in one powerful device.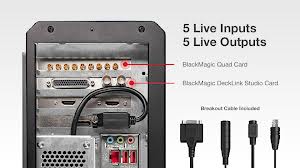 It features 5 HD/SD SDI Inputs and 5 Live Video Outputs (HD/SD SDI, HDMI, Component, S-Video, Composite). Built to television broadcast standards, Livestream Studio gives real-time multiview, cut & fade, graphics overlay, video clip playback & recording (DDR) plus a full audio mixer with cross fade support.
The device will be available mid-october in the US, and can be pre-ordered at the price of $8500.
Further information on the Livestream pages.
Live streaming is part of AdHoc Computing's solutions including the "Mobile Streaming Rack", providing hardware redundancy for assured availability.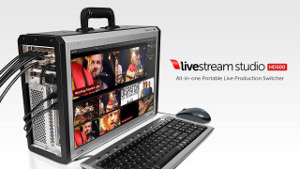 Quelques mois après la présentation du Broadcaster, Livestream lance sur le marché le Studio HD500, le premier mélangeur multi-camera par Livestream. Le but: proposer un appareil de la taille d'une grosse malette comprenant un mélangeur de production video complet.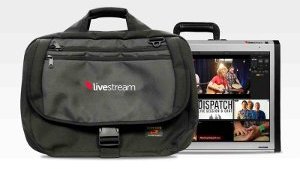 Réellement portable, vous pouvez le placer dans un sac de transport. (environ 7Kg)
De l'écran intégré jusqu'aux cartes Blackmagic Decklink Quad et Studio, vous avez toutes les fonctionnalités dont vous avez besoin en un seul puissant appareil.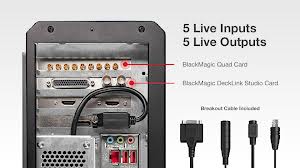 Il dispose de 5 entrées SDI HD/SD et 5 sorties Video (SDI HD/SD, HDMI, RGB, S-Video, Composite). Suivant les normes de télédiffusion, Livestream Studio met à disposition le multi-vues en temps réel, le stop/fondu, les incrustations graphiques, la lecture de vidéos et d'enregistrement (DDR) et un mélangeur audio complet avec support du fondu enchaîné.
L'appareil sera disponible mi-octobre aux USA, mais est déjà en pré-commande pour 8500$.
Plus d'information sur les pages Livestream. (en anglais)
Le streaming en temps réel fait partie de l'offre d'AdHoc Computing avec aussi le "Rack de Streaming Mobile", offrant un matériel en redondance pour plus de sécurité.